Top 20 Celebrity Halloween Costumes
Are you in desperate need to dig out your Halloween ideas from the crypt?
Well, no need to be frightened, as the Beyond Retro team have summoned up some celebrity inspiration from the bowels of spooky celebrations past.
As the fateful 31st approaches ever nearer, direct your eyeballs towards our favourite celebrity All Hallow's Eve looks pulled from The Osbournes to The Kardashians.
20 Best Celebrity Halloween Costumes
1. Lupita Nyong'o as Dion from Clueless
Ugh AS IF! Lupita looks totally stunning dressed as the iconic Dion from 00's cult film Clueless.
We love the simplicity of the costume and the attention to detail. 
2. Winnie Harlow as RuPaul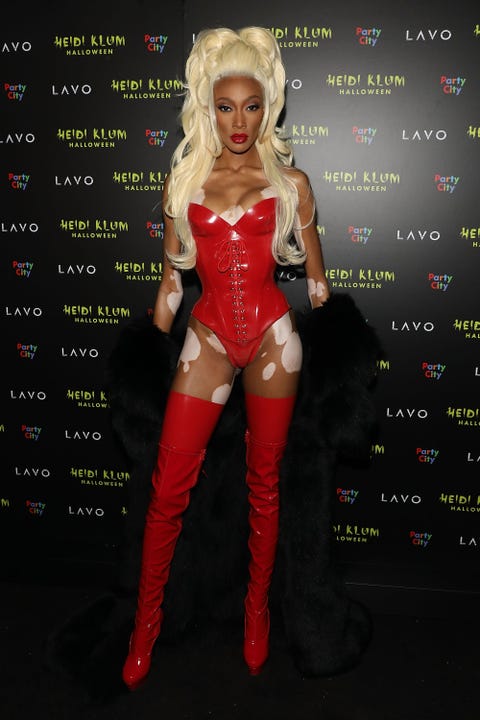 Two icons together as one. Obviously Winnie looks INCRED, who doesn't love a little red latex moment?
3. Katy Perry as a Cheeto
Looking like a total snack, Katy Perry is never one to miss an opportunity to show off her goofy sense of humor and this costume captures it perfectly.
We're taking notes for this years costumes, a Dorito? A Cheese sandwich? A family-size trifle? There's just too many good food based costumes you could do.
4. Emily Ratajkowksi as Marge Simpson
Emily really doesn't do things by halves, we commend her dedication to the full-body yellow paint. 
Cosplay as Marge this year by shopping our vintage dress selection, where we have many a green number. 
5. Harry Styles as Elton John
We love a tribute, don't we girls?
Harry Styles went as his pop-idol Elton John for Halloween. You can recreate this incredible look with some of our retro-inspired sunglasses. 
6. Bella Hadid and The Weeknd as Lydia Deetz and Beetlejuice
Bella Hadid and then-boyfriend The Weekend went as characters from one of our favourite cult-classics.
Heavy on the 1980s influences, this look should be easy to source in our stores!
7. Heidi Klum as Jessica Rabbit
Try this look at our home with our gorgeous party collection, avaliable in store and online. 
8. Kim Kardashian and Jonathan Cheban as Sonny & Cher
 The Kardashian sisters know how to do Halloween.
Kim, knowm for pulling multiple Halloween looks, dressed up as Sonny and Cher with her best friend.
9. Orlando Bloom and Katy Perry as The Clintons
 Iconic! If there's one thing we love more than Halloween, it's left-wing politics! 
This costume is a joy to behold. Shop our vintage selection of suits to nab yourself a costume worthy a 2014 presidential candidate. 
10. Beyonce, Jay-Z & Blue Ivy Carter as Barbie & Ken
 Family looks are hard to beat. Beyonce, Jay-Z and Blue Ivy as Barbie, Ken and ... girl playing with dolls (?) is a sure winner.
Re-create Beyonce's look with a vintage swimsuit, Jay-Z's with a vintage suit and Blue Ivy's with a vintage leather jacket.  
11. Lady Gaga as Edward Scissorhands 

Pop icon Lady Gaga loves to pull a look so it's no wonder that she literally became Tim Burton's Edward Scissorhands last Halloween.
You too can recreate this classic look with a vintage shirt, layered leather belts and a black wig.
12. Khloe Kardashian as Khaleesi

Khloe Kardashian and Tristan Thompson went as Khaleesi and Khal Drogo from Game Of Thrones.
No matter your stance on Kardashian culture, there's no denying that this isn't a well put together interpretation.  
13. Adele as The Mask

Singer Adele is looking s-s-s-s-s-s-smoking in her incred version of Jim Carrey's character in The Mask.
Recreate the outfit yourself with a vintage suit from our website.
14. Jessica Alba and Kelly Sawyer as Romy and Michelle
This recreation of one of the best 90s cult films ever is a great look to pull off for you and a bestie.
Grab yourselves some metallic mini dresses just like Kelly Sawyer and Jessica Alba did!


15. Madonna as a Clown
Whether you're a Ronald McDonald or a scary Pennywise, creepy clowns are a Halloween staple.
Queen of pop Madonna couldn't look further from herself in this classic clown costume, complete with matching red makeup and accessories.


16. Neil Patrick Harris and family as Batman
If there's one thing we look forward to every Halloween, it's Neil Patrick Harris' adorable family Halloween costumes.
A few years ago they took on Gotham with their infallible Batman costumes, with parents playing the villains and kids as the heroes.
17. Zoe Kravitz as Marla Singer
Not that we're allowed to talk about it but Zoe Kravitz somehow managed to turn her Fight Club Halloween costume in something way more chic than we could ever pull off.
Have a go yourself with a faux fur coat!


18. Kelly Osbourne as Joan Holloway
Here at Beyond Retro, we always love a nod to Mad Men which is why Kelly Osbourne's Christina Hendricks inspired look has made our inspo list.
Recreate the vibe with a vintage 60s dress of your own.


19. Justin Timberlake as Buzz Lightyear
The absolute best Halloween family costume last year would be awarded to Justin Timberlake, Jessica Biel and son Silas for their iconic Toy Story tribute. Get us those cow print chaps!

20. Imaan Hammam as Slash


Model and multi-featuring Vogue cover star Imaan Hammam completely rocks her homage to Guns N Roses frontman Slash.
The PVC trousers, western belt and bold blue eyeshadow make for a brill combination.
Bonus points for bringing along a guitar, though we really hope no drunk dude used it to play Wonderwall at the afterparty.
If you've enjoyed this, be sure to check out our 2019 Halloween Fancy Dress Ideas for some more spooky inspiration! Don't forget you can celebrate Halloween with Beyond Retro through an array of events we are hosting, and once the party is over you can recycle your Halloween costume back to us and receive  £5 voucher!