The Beyond Retro Guide To... Nike
Imagine a world without Nike. It seems impossible, right? Nike is undoubtedly one of the most iconic brands, not just in sports, but in the WORLD. From it's instantly recognisable logo to its iconic adverts, Nike is inimitable (even if some brands do try.) From Vintage Nike sweatshirts to vintage Nike Jackets, with such a rich history to mine for inspiration, here is our Ultimate Guide to Nike.
The History of Nike - 1962
The brand we all know and love as Nike, was originally called Blue Ribbon Sports and started in 1962. With only $1,200 in the bank, track and field coach at the University of Oregon - Bill Bowerman - started the brand which opened its first store in 1966, where they launched the Nike brand shoe in 1972.
After the stellar success of the trainer brand, Blue Ribbon Sports changed its name to Nike in 1978. The brand was named after the Greek goddess of Victory - it's for this reason that it is pronounced 'NY-KEE', not 'NYK'. (It's NY-KEE, ok? Got it?)
The now iconic swoosh logo was originally designed by a Penn State student as part of a competition, for which she won $35. The student was later given shares in the company after it's huge success. (Not too shabby). Since its humble beginnings, the company has grown exponentially and continued to dominate in all areas of the industry whilst always being on the forefront of innovation.
When Was The First Nike Trainer Created? - 1972
Much to Bill Bowerman's wife's' dismay, the first Nike trainer was developed by pouring rubber into a household waffle iron. The texture was used to create a new kind of trainer sole that hadn't been seen before. In 1972 the first prototype of the Waffle Racer trainer was developed.
It would go on to be nicknamed the 'Moon Shoe' and featured the Nike swoosh. In 1972 a cult classic the Cortez was also released, this was a huge development for the brand and was worn in both the Olympics in Mexico and by Tom Hanks in the iconic movie Forrest Gump. (Run Forrest, Run!)
When Was The Nike Sweatshirt released? - 1980
The original sweatshirt was invented by Benjamin Russell Jr., a football player in 1926. It began with the new idea for an all-cotton practice football jersey. The first Nike clothing came out in the 80s, meaning there are now loads of amazing vintage Nike sweatshirts to be found!
When Was The Nike Blazer Released? - 1973
In 1973 Nike launched a classic silhouette and started their decades long association with basketball, with the Nike Blazer. The 'Iceman', NBA player George Gervin, wore them (and looked pretty amazing), and their popularity began to rise and rise.
When Was The First Trainer With Air Pockets Made? - 1978
The first shoe with air pockets in its outer sole is developed and put out to market. This is a revolutionary step in the development of sports shoes.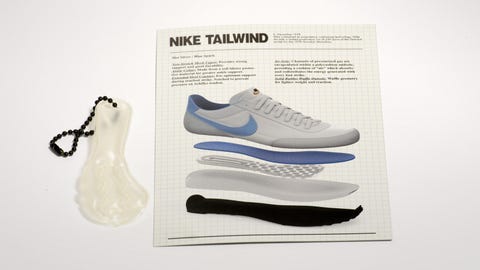 The Nike Air Force 1 Is Created - 1982
All Nike trainers are iconic, but then there's the Air Force 1. Words cannot describe how big this shoe became, so we won't try, just take in their beauty;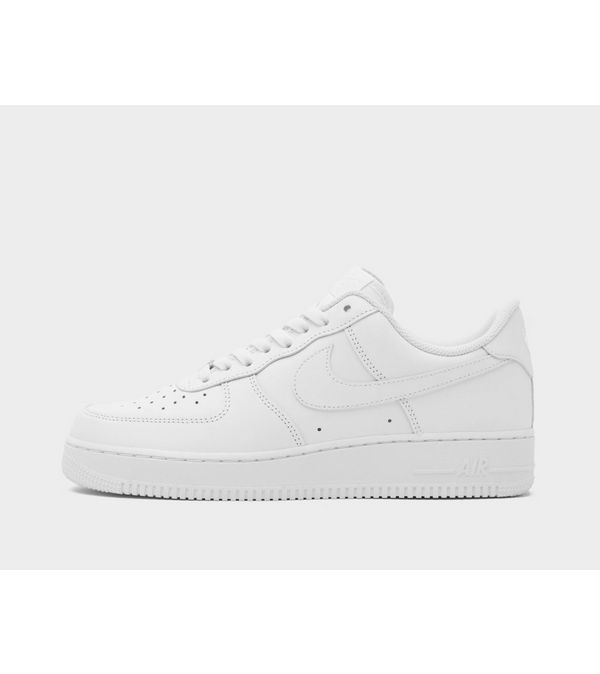 The simplicity, the versatility, the beauty.
Jumpman, Jumpman, Jumpman, that brand's up to something - 1984
The first of the most coveted lines of trainers in the world is created. The Air Jordan 1 is designed for Michael Jordan and the infamous Jumpman logo is created. Referenced by everyone from Drake to Jay-Z, Rick Ross and Kanye, Michael Jordan and his Jumpman sneaker is a pivotal cultural reference within the world of hip hop and R'n'B.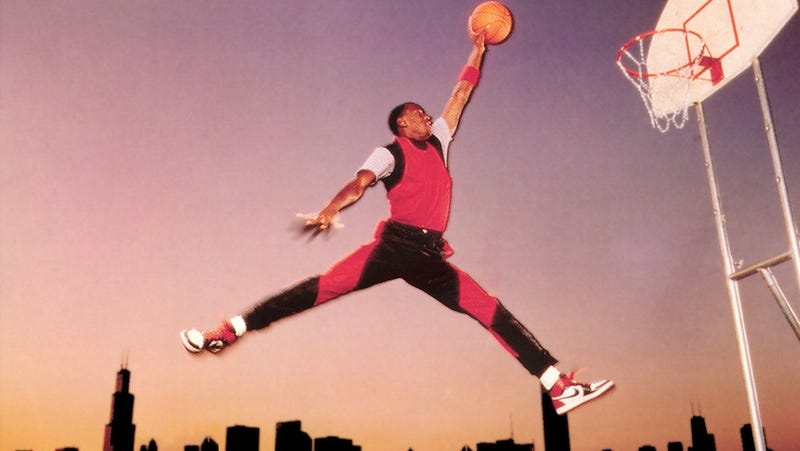 This trainer was more than just the start of one of the most lucrative brand endorsements the world has ever seen, but also the centre of a controversy. It ended with Jordan paying a LOT of money to the NBA anytime he wore them on the court as they violated the 'uniformity' rule. Even though Jordan hasn't played basketball professionally since 2003 it is reported he still makes $60m a year in Nike royalties. #Blessed.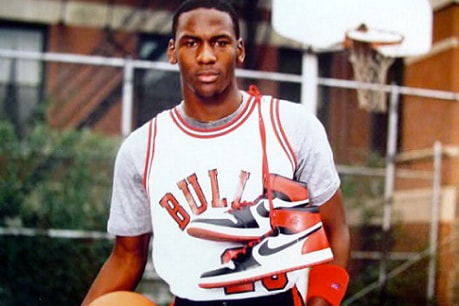 The Iconic Air Max Are Born - 1987
Shoes and clothes can be a way to integrate within certain social groups or style tribes, the Air Max, however, transcends all of these groups. They've gone through many different stages of popularity, but are now firmly THE universal fashion trainer.
With brands such as Off-White bringing out their own Nike Air Max 97's this trainer silhouette is as dynamic as the company it's made by.
Let's Do It - 1988
The Nike Slogan Just Do It has a somewhat morbid backstory which might change the way you see their next advert. Serial killer Gary Gilmore was killed by firing squad for his crimes after uttering his last words of 'let's do it'. The slogan was inspired by this and now lives on as one of the best pieces of marketing ever seen.
Oregon Opening - 1990
It's strange to think that until 1990 Nike didn't have any of its own retail stores, but until they opened in downtown Portland this was the case. Nike stores such as 'Nike Town' in London's Oxford Circus are infamous for their tech-led customer experiences and for being on the forefront of shaping consumer mindsets.
Nike Town - 1999
The largest Nike store in the world opens in London. It's still pretty mega.
SB - 2002
Nike decides to get in on the action of the growing market of skateboarding apparel after it's rise in popularity in the late 90s. (Thanks The Offspring & Blink 182). 
Conquering Converse - 2003
Nike buys Converse for a whopping $309 million. The classic Chuck Taylor trainer becomes a huge money maker for Nike and Converse go on to produce massive cultural events such as the One Star Hotel in London to launch the Converse One Star trainer.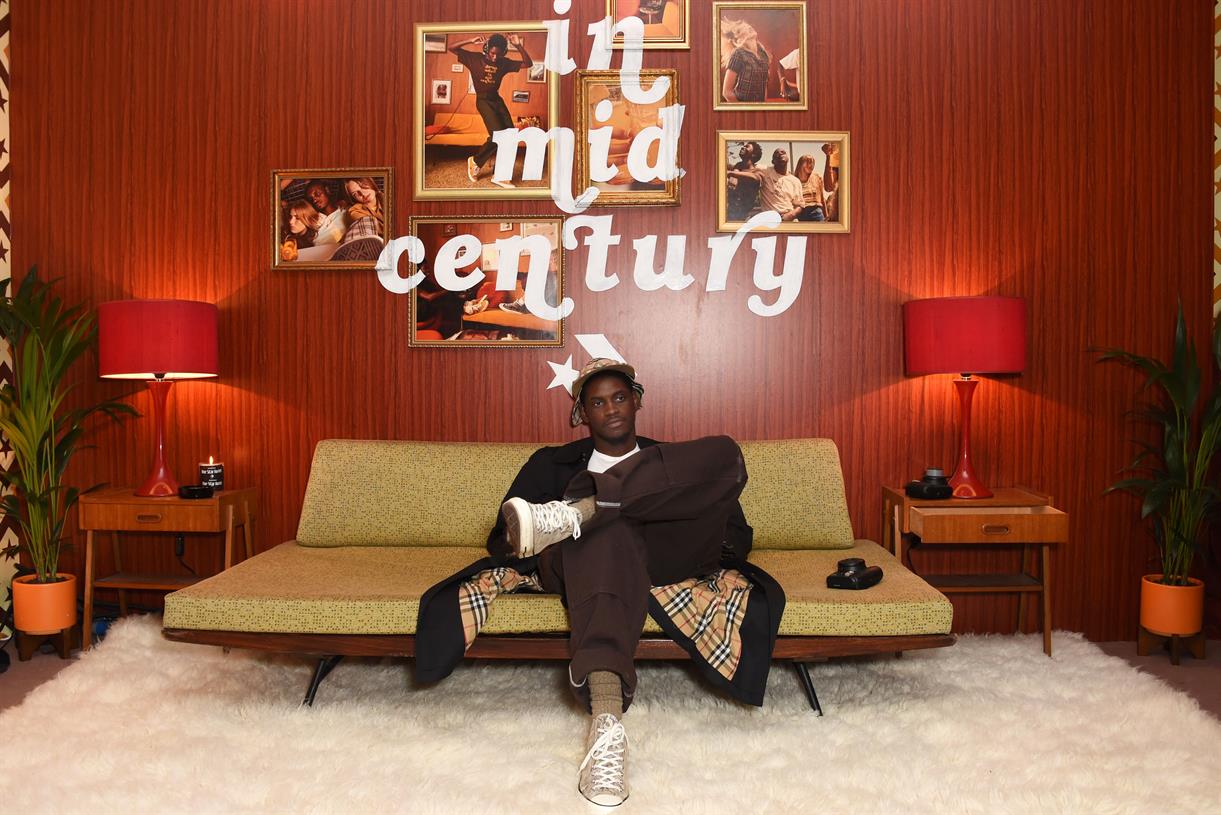 Tycoons takeover - 2006
In 2006 Nike partner with Apple to launch Nike+ technology, a new beginning for technical sports developments.
Back To The Future - 2015
Nike developed a limited range of shoes inspired by the self-lacing boots in the 1989 film Back To The Future Part 2. They were auctioned off for charity.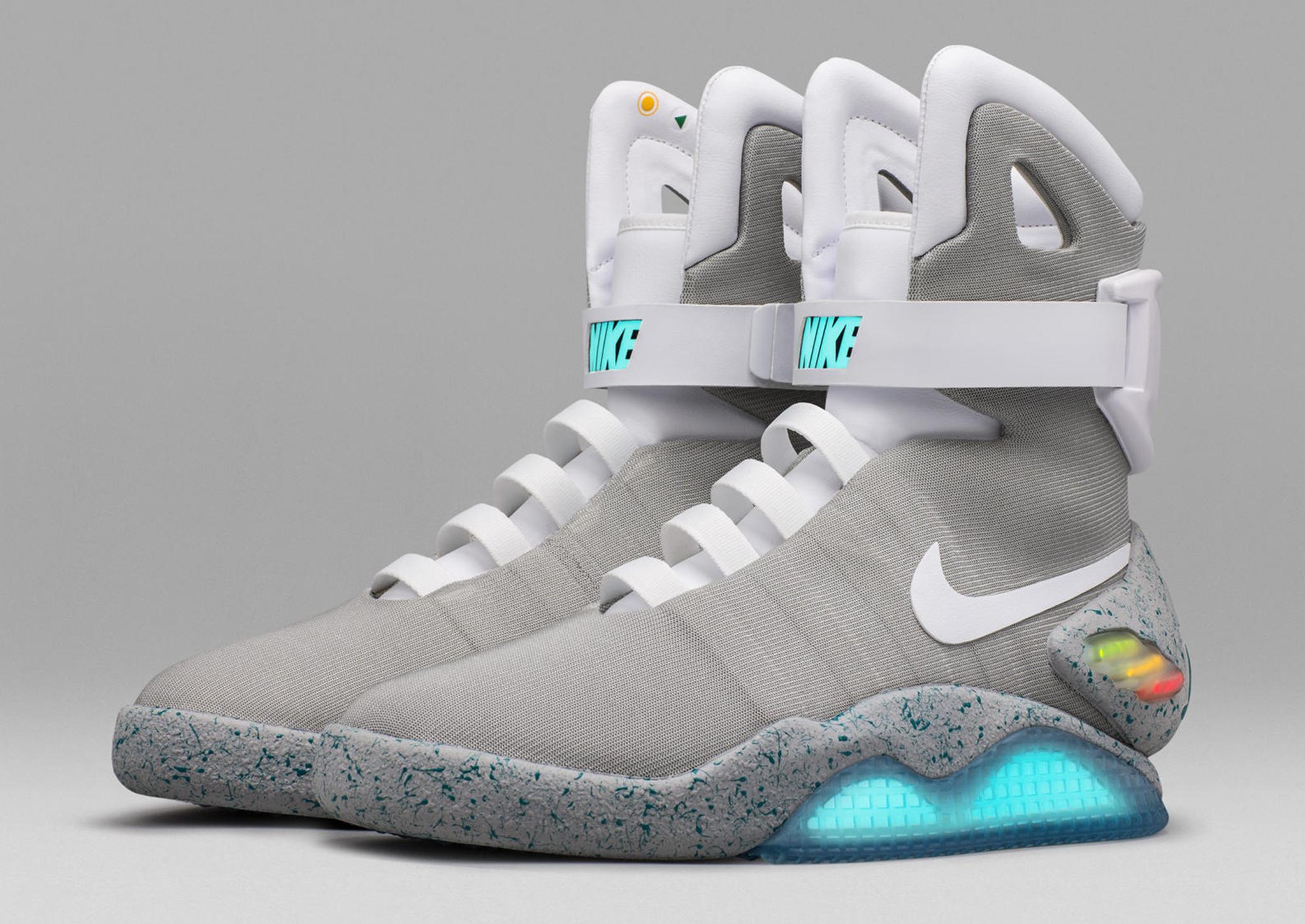 Nothing Beats a LNDNR - 2018
In one of the most viral videos of the year, Nike creates an iconic piece of culture featuring some of the biggest names in sports, music, and TV. With music produced by Tone P and Mark Ronson, the 3-minute video features a range of British icons such as Skepta, Giggs, Jorja Smith, Michael Dappah, Harry Kane, Gareth Southgate and Mo Farrah.
The star-studded cast pokes fun at London stereotypes and in-jokes, "Peckham? What's Wrong with Peckham?" in an uplifting piece sound-tracked by some of the biggest London grime artists.
Celebrity Endorsement
Worn the world over, Nike is a juggernaut in the streetwear and sports apparel game. Famous for their celebrity collaborations and endorsements, throughout the years the brand has perfectly captured zeitgeists by casting some of the biggest names in pop culture as faces for their campaigns.
Serena Williams was at the centre of some controversy for her Nike all-in-one. She went on to be featured in Nike's latest 'Dream Crazier' advert.
Bella Hadid in Nike
Colin Kapernick was shunned by many football fans after he took a knee during the national anthem to protest racism and police brutality in the states.
Hailey Baldwin in her Adidas collaboration collection
Michael Jordan and Spike Lee for Nike in 1988
Not Just The Trainers
Of course the iconic shoe silhouettes will always be Nike's biggest export, however, they are also known for their sports clothing. Vintage Nike pieces make excellent wardrobe staples to see you through every season. A versatile vintage Nike jacket is one piece that you shouldn't be without. Take a look at some of our favourite styling inspiration:
 Feeling inspired you can shop all of our vintage Nike pieces here. Or if you want more brand history, you can read about how Levi's began here.
Words By Eloise Gendry