Naomi is a bonafide fashion icon, that is undisputed and with such an awe-inspiring style, of course, people will be looking to copy it. In a world of fast fashion some brands and celebrities, *cough cough* The Kardashians, try to imitate an iconic look without giving credit or making it clear they are paying homage.
A muse to many designers and seemingly ageless, Campbell continues to be flawlessly dressed and always pushing artistic boundaries with her looks. In a world of knock-offs, we believe in celebrating authentic vintage style and today we're giving thanks to one of the industries biggest players. So here are our 10 favourite Naomi Campbell looks.
Doubling Down
A vision in blue, we will always love a bit of double denim but Naomi went all out with these flared jeans and matching sequined denim bandeau. Summer party inspo? We think so!
Lowkey who?
A satin bias-cut skirt is a wardrobe staple for summer 2019 but Naomi knew this way before anyone else. The square tinted sunglasses and fur jacket are just the icing on the fashion cake that makes this look feel so effortless. Shop our selection of coloured lens sunglasses and midi skirts online and in-store.
Versace Vixen
Whilst she can do OTT like the best of them this Versace outfit from the '90s is a sophisticated and fun look which is glamorous yet toned-down.
Safety Is Sexy
At Beyond Retro we are all about supporting important causes through fashion and 2003 Naomi in the rhinestone embellished halter emblazoned with the slogan 'Use A Condom' is the kind of thing we can get behind. The top was part of a collection used to support AIDs awareness by London Designer Katharine Hamnett.
All That Glitters
Floor-length, shimmering gown and Gianni Versace as your date; G L A M O U R!
Moss & Campbell; A Powerful Friendship
There's a reason that so many 'going-out' inspiration Pinterest boards feature a billion pictures of Kate Moss and Naomi Campbell, this friendship is a serious fashion powerhouse. Not only are they style icons and supermodels but incredible business women.
Fashion Queen of England
A lot of British icons were present at the 2012 London Olympics and whilst our GB teams did well Naomi really showcased our homegrown talent. In a floor-length gown and towering heels, she took to the stage at the Olympic closing ceremony and stunned.
Power Dressing
We love a good suit and this white two-piece looks so incredible on Naomi. An iconic 90's look, the rectangle sunglasses turn this outfit up all the way to 11.
Gingham Goddess
We definitely did not look this put-together on our 22nd birthdays but of course, Naomi managed to pull it off in a blue gingham dress with signature 90's baby blue eyeshadow..
No Filter Needed
A legendary look, this Versace mini dress is exquisite and perfectly encapsulates Naomi's icon status. Even the guy in the headset in the back of the picture can't believe his eyes.
See more of Naomi's greatest style moments along with some of our other top style icons in our favourite animal print looks.
Words Eloise Gendry
The 1970s and denim go hand in hand together like Jimmy Hendrix and a guitar, or Bianca Jagger and a white horse at Studio 54. From flares and double denim to skirts long and short the decade shifted denim from a Counterculture statement to a fast fashion must have. We take a look at some of our favourite 1970s denim fashion moments to help you get the perfect look online and in store.
Flared Jeans
Flares in any shape and form are synonymous with the 70s, starting life off as Naval bell-bottoms bought by the youth as a distinctive sign of a Counterculture lifestyle. The demand for these recycled Navy uniform trousers outweighed supply and those who wanted the look started to get creative by cutting open the side seams of straight legged jeans and adding extra panels of contrasting fabric.
Manufactures and stores quickly caught on to the DIY flared jeans, and it wasn't long before a flared jean could be seen in every High Street window. From Farrah Fawcett to the teenagers on the street, flared jeans were the staple of 1970s denim fashion.
The Wrangler Jacket
Denim jackets can be attached to many eras but for the 70s must have it was the Wrangler Blue Bell 11MJ. Made famous by John Lennon it is near impossible to find a photo of Lennon in the 70s without his favourite piece of Wrangler denim.
The Denim Skirt
The denim skirt was born in the 70s as a way to recycle damaged denim in the awakening of the environmentally conscious consumer. They came in all lengths from a take on the 60s mini to the longer bohemian cut with raw hems, centre front o-ring zips and the humble patchwork.
Double Denim
Originally the staple of Cowboys and Miners of Gold Rush California, double denim much like the flare became a popular 70s trend. One of the many advocates of the double denim look was Sonny and Cher. Sonny, in fact, was the first man on television to ever wear denim. Denim came to symbolise a fresh all – American sexuality so the more denim, the better!
With so many 70s pieces in store and online, it is so easy to recreate your own 1970s denim fashion moment or mix and match with your own style. Perhaps try your own bit of DIY on the unloved denim in the back of your wardrobe to create that patchwork look.   If we can recommend one thing though is to try double denim, it may change your life!
 Words Hugo Harris
WonderBras, corsets, push-ups and girdles; styles and fashions in women's lingerie have reflected not only the changing trends in women's fashion but also changes in societal attitudes to beauty, the body and politics.
Check out our break down of the history of lingerie and the changing trends and styles from the Mid 19th century lingerie to the 1990s.
1850 - 1900
Crinolines and corsets were standard elements of a fashionable ladies dress in the mid - 19th century. During this century skirts were voluminous and bell-shaped, the desired effect was first achieved by layering a large number of petticoats together.
In 1856 they were replaced by the cage crinoline - a hooped petticoat made from flexible steel. Skirt s continued to expand and they reached their maximum proportions around 1860. Skirts were so enormous two ladies could not sit together on the same sofa!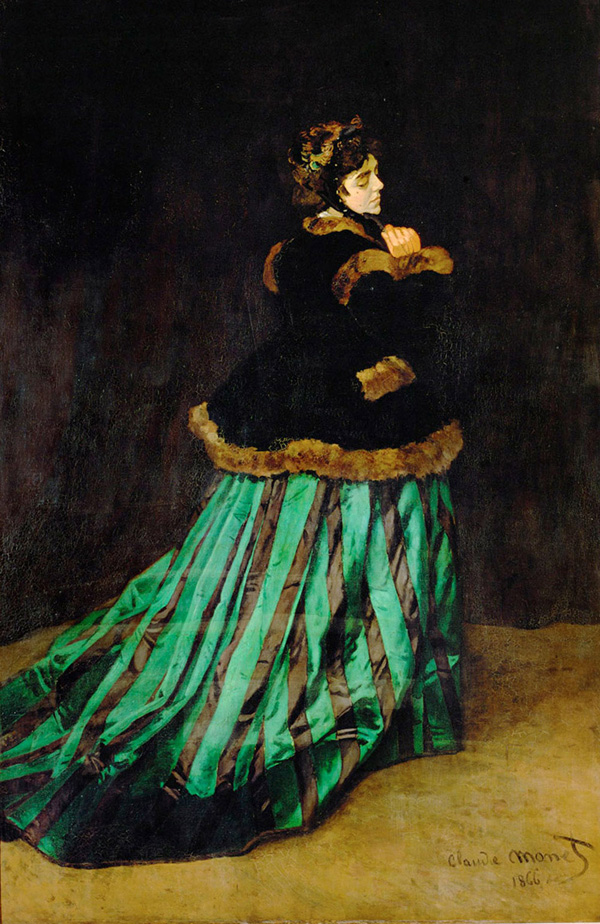 'Camille' by Monet 1866 - shows the vast hooped skirt that was fashionable at the time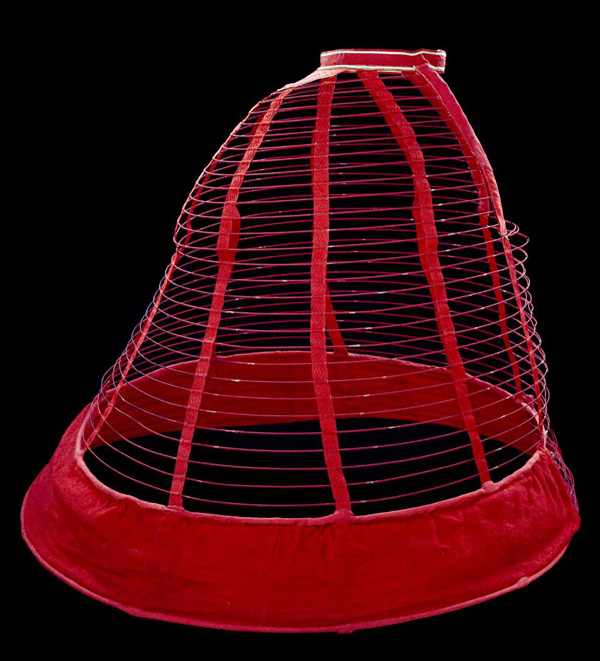 A crinoline, courtesy of the V & A
1900 - 1910s
During the Edwardian period, fashion as always reflected the mood of the age. It was a decade defined by everything that was larger than life-size (for those who could afford it) in an age of excess and extravagance.
In fashion busts too became bigger, the effect was emphasised by the so-called 'health' corsets which were designed to relieve pressure on the abdomen, made the body firmly straight in front, by throwing back the hips and throwing forward the bust. This formed the body into an S-shaped stance so distinctive of the period.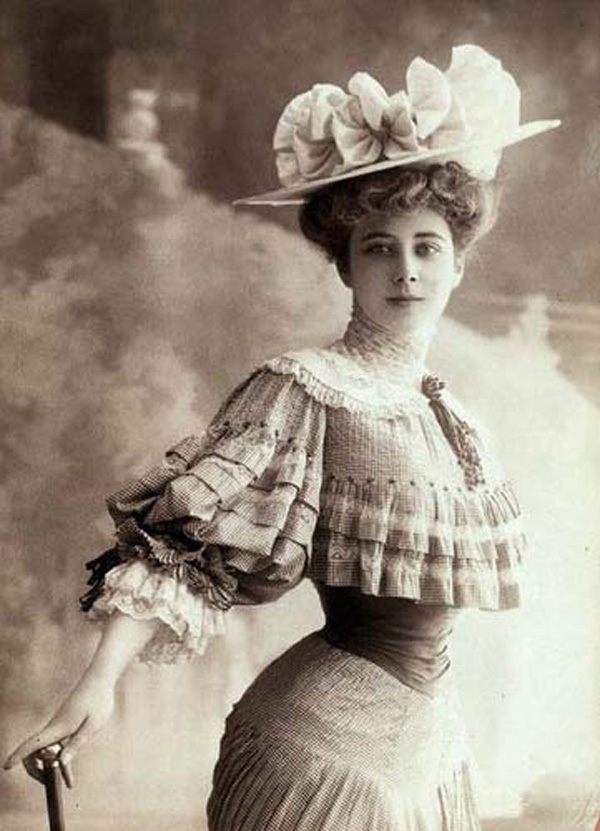 1920
During the 1920's skirts became shorter and waistlines dropped, this sleek and slinky silhouette was unforgiving to any form of bulky lingerie. An androgynous silhouette was the fashionable shape of choice throughout the roaring jazz-fuelled 20's - the bust was entirely boyish and women even took to wearing flatteners and lightweight slips in newly invented fabrics to achieve the desired effect.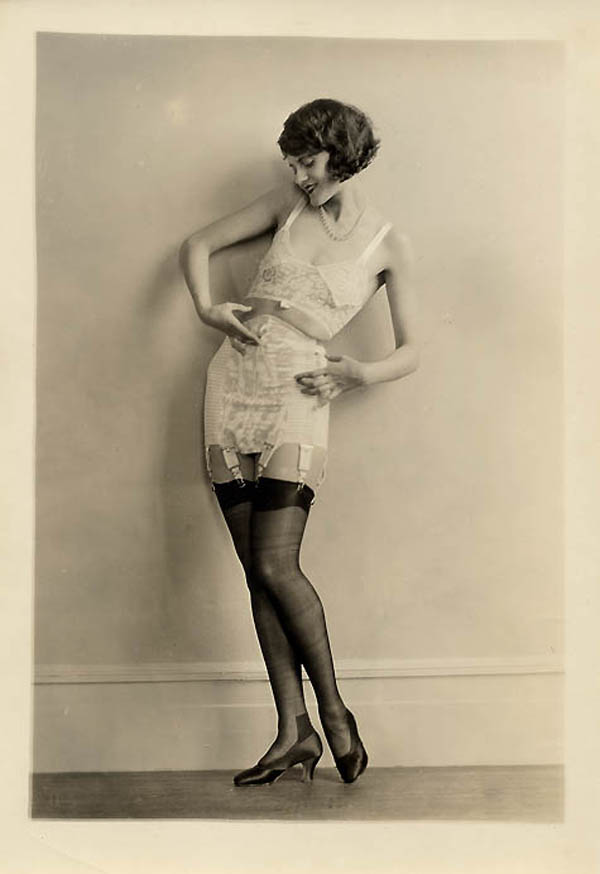 1930
The 1930's is renowned as the Golden Age of Hollywood and of glitz and glamour. Fashion looked to burgeoning Hollywood starlets for style inspiration. There was an emphasis on backless dresses bared to the waist, many of the dresses of the period looked as if they had been designed to be seen from the rear. 

With developments in fibre technology, fabrics, colours, patterns and innovations with adjustable straps, padded bras and cup sizing, bras became more sophisticated than ever before and allowed for a more versatile approach to dress especially when it came to backless dresses. Wasp waists were also back in fashion coming into the 40's. In the summer of 1939, Vogue's reporter noted 'you must have a tiny waist, held in if necessary by super-light-weight boned and laced corsets'.
Tony Frissel for Vogue, 1938
1940
Fabric shortages throughout the war impacted trends and styles in fashion, the waist remained nipped with skirts coming to just below the knee. The 'make-do and mend' campaign encouraged women to re-make and update their wardrobe by hand. Military terminology crept into everyday product marketing with the conical 'bullet bra' increasing in popularity, offering support and protection.
Dior's revolutionary 'New Look' in the late 40's waists were heavily corseted, hips were padded and shoulders softened with an emphasis on the bust. This hourglass silhouette was achieved with the help of a strong girdle, with attached suspenders to hold up stockings.

1950
Pointed brassieres or bullet bras remained popular into the 1950's, helping to achieve the ultra-feminine look that was favoured throughout this decade.
Hooped skirts to achieve the popular bell-shaped form
Despite the sexual and feminist revolution of the 1960s many trend-led young women often looked like children, dressed in baby doll dresses, puffed sleeves, pinafores, gymslips and the Knickerbockers.
Lingerie reflected these styles with cute nighties, frilly knickers and unstructured brassieres becoming popular throughout the decade.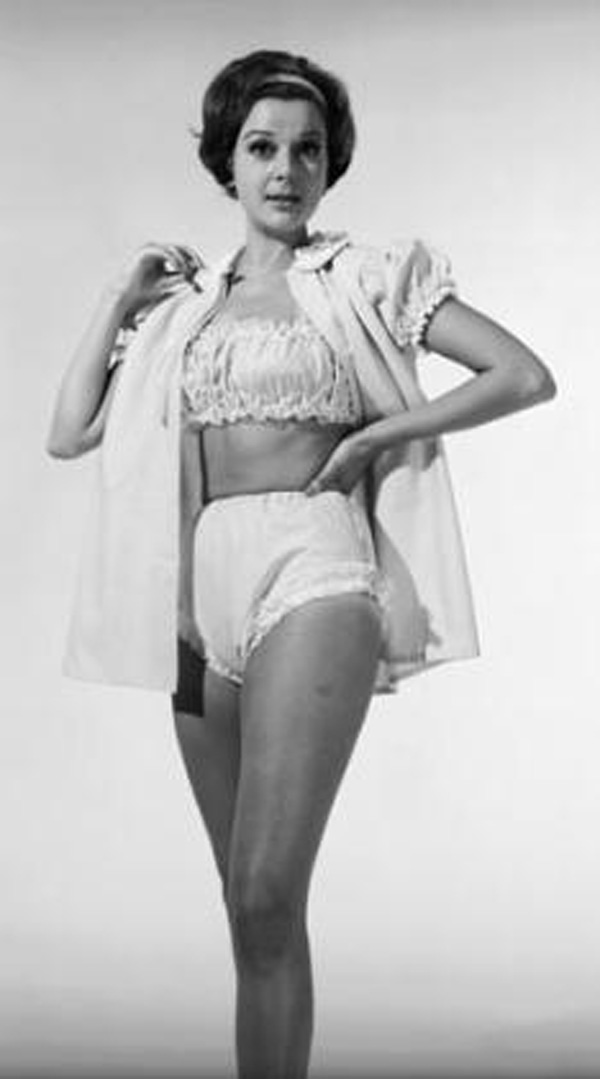 The cutesy styles of the previous decade were set aside in favour of a more sophisticated and sexy look. Lingerie became daring and luxurious with the use of silks, satins and sequins utilized to create the underwear for the decade of disco.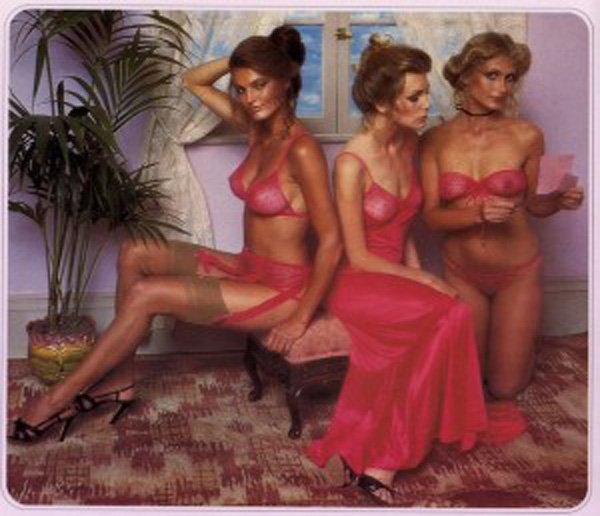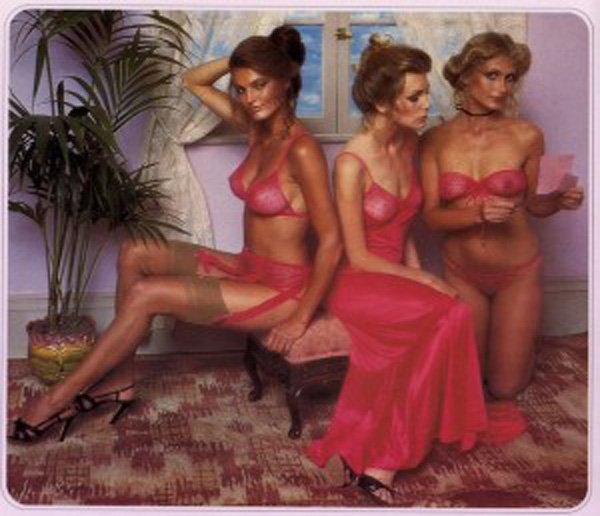 The lingerie of the 80's projected a bold, youthful and overtly sexual image. This was the decade that brought us thongs and G-strings with lingerie designers drawing inspiration from fetishistic corsetry and lacing.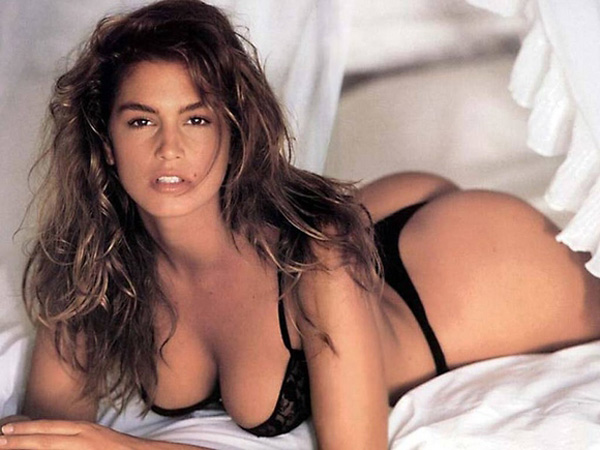 Cindy Crawford modelling a bra and thong set 1980's
The 90's saw the trend for underwear as outerwear fronted by the chameleon queen of pop, Madonna and also infamously known for her conical bra. This was also the decade of the WonderBra worn by supermodel Eva Herzigova.
Eva Herzigova in Wonderbra's 90's billboard campaign  
Shop our selection of vintage lingerie here or for some more fashion history read our history of Levis jeans here.